A ROUTE THROUGH THE UMBRIAN OIL PRODUCING REGION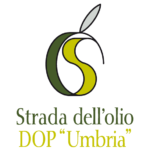 By following the Strada dell'Olio Extra Vergine DOP Umbria (The Umbrian Extra Virgin Olive Oil Route) you can experience the true beauty of our region.  Here you can touch the treasures of the distant past, hear forgotten sounds, taste traditional food and absorb the different fragrances of the seasons that follow each other.  Experience the enchanting colours that characterise our landscape, from the silver of the olive trees, the autumnal shades of the vines, the deep blue sky, the vibrant green olive oil and the crystal clear waters to the wines of golden white and sunset red.
We are pleased to be one of the founding members of the Associazione Strada dell'Olio Extra Vergine di Oliva DOP Umbria founded with the cooperation of manufacturers and regional government agencies to preserve, enhance and promote the quality of Umbrian Extra Virgin Olive Oil.
Extra virgin olive oils are not all the same; certain oils are closely linked to the area of their ​​production and to the traditions of the different manufacturing processes.  Their authenticity is guaranteed by the age-old skills and experience of the Master Tasters.
You are welcome to visit our mill at any time during the year where, under the guidance of our Master Tasters: Adam, Silvia and Luca, you can try some tasty bruschette and taste the best combinations of dishes and the different oils we produce. 

Book your visit by telephone, email or via Facebook